Image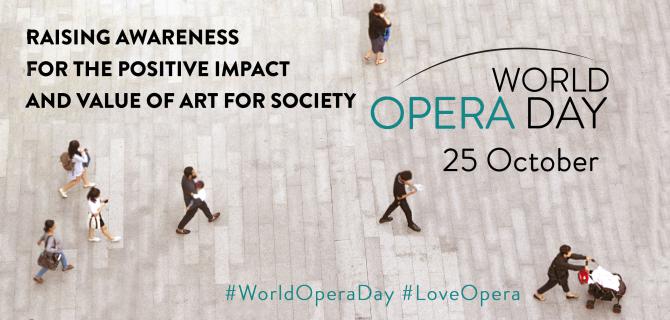 The first ever World Opera Day was held on 25 October 2019, with an international social media campaign and local events shining the light on Opera's contribution to citizens' wellbeing. Opera Europa, OPERA America and Opera Latinoamérica join forces with encouragements from UNESCO and the International Theatre Institute to remind people of the role of artistic expression and creativity.
The initiative of World Opera Day is the result of shared discussions between members of OPERA America, Ópera Latinoamérica and Opera Europa, and representatives of the opera field from the rest of the world, at the first World Opera Forum hosted by Teatro Real Madrid in April 2018. World Opera Day is an awareness campaign of the positive impact and value of Opera for society. Opera as well as the arts contributes to developing tolerance and understanding, opening minds, and getting people in touch with strong universal emotions. 
Just as much as sport shapes a healthy body, the arts shape a healthy mind.
World Opera Day will be celebrated annually on 25 October. Join the celebrations!
For more information, visit www.worldoperaday.com