Image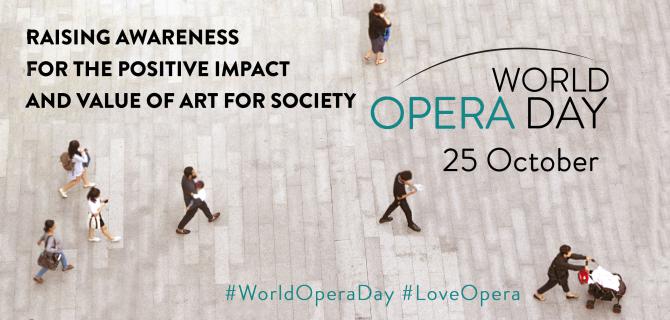 World Opera Day, celebrated on 25 October, acquires added resonance in 2020 because of the disruption to theatre activity caused by the pandemic.  The crisis forces us to reflect on opera's place in society and to ask when and how live performances will resume.
World Opera Day 2020 is a vital staging-post on the road to recovery.
Recovery will be driven by a sense of purpose.  As we rebuild our economies, we aspire to re-create jobs and also to renew that which contributes to people's physical and mental well-being.  Can human beings survive without culture?
Ludwig van Beethoven is our choice as patron of World Opera Day 2020.  
Though celebrations of his 250th anniversary this year have been curtailed by lock-down, his humanitarian message is more necessary today than ever.  At the fall of the Berlin Wall in 1989, his setting of Schiller's Ode to Joy in the finale of his 9th Symphony was adopted as a Hymn to Freedom.  Today we draw inspiration from Leonore's pledge in the dungeon:
    Wer du auch seist, ich will dich retten...Du sollst kein Opfer sein.
    (Whoever you are, I will save you...You shall not be a victim);
And from the Minister's benediction:
    Es sucht der Bruder seine Brüder / und kann er helfen, hilft er gern
    (The brother seeks his brothers / and if he can help, he helps gladly)
Universal brotherhood embraces all humanity and ethnic groups.
 
Beethoven offers opportunities to celebrate World Opera Day on every scale: works for solo piano, voice and piano, string quartet, chamber ensemble, chorus and orchestra.   We ask you to match your choice with your resources; and to offer both live and online content.  The aim is both local and global impact.
Opera Europa will help to coordinate the latter through OperaVision and its network of ambassadors and partners on other continents.  Together, let us tell the world a story of hope in adversity and of human aspiration.